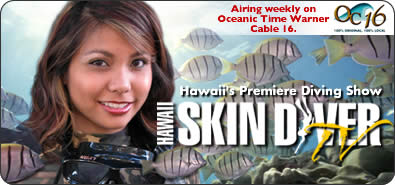 This top rated television series focuses on freediving and spearfishing filmed on location throughout many exotic destinations around the world. From Hawaii to Micronesia, the South Pacific to Indonesia, Hawaii Skin Diver offers viewers a rare and beautiful view of the oceans below which until now has only been explored by a select group of underwater thrill-seekers and aqua adventurers.

Mondays
6:00 am & 3:30 pm

Tuesdays
8:30 pm

Wednesday
2:30 am & 10:00 pm

Thursday
1:00 pm

Friday
6:00 pm

Saturday
12:00 am & 10:00 pm

Sunday
4:00 am


what's new on HSD TV


HSD TV November 2016
"Ahi Fever Part 3" Episode
Join Captain Kyle Nakamoto and his crew on board the Red Sea as they pull out fishing poles to target the prized Yellowfin Tuna. Tune in to OC16 channel 12 or 1012 (high definition) or watch it online at www.oc16.tv.

Hawaii Skin Diver Television Online
Watch Hawaii Skin Diver "LIVE" over the web at www.oc16.tv Advertising opportunities available! more>.
:: Back to Top








Red Sea Gyotaku
Originating in Japan during the 19th century, 'Gyotaku' (meaning "fish print") was developed to preserve the exact size of their trophy catch, and over the years has evolved into a beautiful art form.

We have a wide variety of local and exotic types of fish prints in standard or custom sizes. Click here for more info.